EventGnosis Event Center
Easiest IT Network and Application Management Solution Ever

Combine Windows Event Logs, Syslog, and SNMP
Send and Receive Email Notifications
Read Local and Remote Text Log Files
Advanced Event Correlation
Eliminate Duplicate Events
Runs on Windows and Linux

Automatic Actions Triggered by Events

Shell and SSH Actions
Email and Syslog Notifications

Convert Multiple Messaging Protocols to Syslog

Windows Events, SNMP, and Text Logs
Forward Events to an Existing Syslog Server

Multiple User-defined Event Archives

For Diagnostic and Forensic Analysis

Free: 2 Hosts with up to 5 events/sec
Easy and Versatile Event Log Management and Event Correlation
EventGnosis Event Center is an easy-to-use and versatile log analysis and management system for your entire enterprise. Receive log events from virtually any system or application. Create custom rules to correlate events, eliminate duplicates, and define automatic actions to fix recurring problems.

Monitor Most Systems, Devices, and Applications
Monitor any type of network router or switch with SNMP. Manage your Unix servers, firewalls, and VPNs with Syslog events, and remotely collect and manage all your Windows Server event logs with Event Center without ever installing a local agent. Read and analyze all types of application text log files.


Automatically Restart Services
When Event Center detects recurring problems on your network, go and have Event Center fix them automatically. Event Center can securely log into many systems and devices using SSH, run commands that are dynamically created from event messages, and return the results to you. You can even choose to run different actions at specific times of the day or week. So next time a critical service dies just have Event Center automatically restart it for you.

Email Notifications and Email Commands
Event Center can even read email, which let's you automatically respond to email notifications. Or better yet, send an email from your phone and ask Event Center to email you back the status of specific servers and applications. Always be in control of your network, regardless of where you are.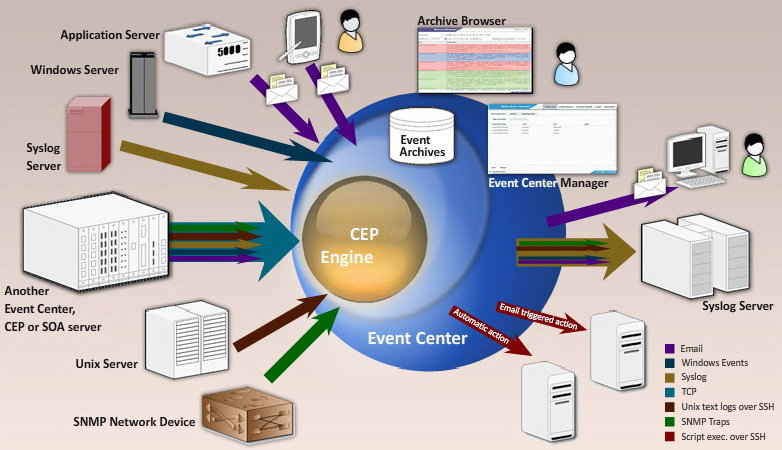 Real-Time Consoles and Syslog Forwarding
Event Center lets you direct events into multiple user-defined real-time event consoles. Create different event consoles for each application or choose to display only the most important events. Forward any event regardless of original event format to an existing Syslog server. In other words, Event Center is the perfect tool for remotely reading all your Windows Server event logs and forwarding them to Syslog.

Real-Time Consoles and Dashboards
Always know exactly what is happening. Events can be shown in real-time consoles specific for each connection. In addition, graphical real-time summary dashboards can give you an overview of your whole system. It can be the throughput and performance of each server, or your real-time order volume by product line. If it flows through the Event Center, it can be analyzed.

Easy Web-Based Configuration
Event Center's web-based user interface is very simple to use. Click on "Add Connection" and a wizard will let you read events from remote servers in no time. Click on "Add Action" and you can pick specific events and chose from a number of different notifications or actions.

Log Archival for Regulatory Compliance
Events are saved in user-defined archives which are human readable and can easily be backed up, just in case you ever need proof for who did what. This is perfect for forensic analysis or regulatory compliance.

High Performance and Scalability
Event Center is based on the powerful and high performance EventGnosis CEP enterprise event correlation platform. If you need enterprise scalability go ahead and deploy any number of EventGnosis server products throughout your enterprise. One EventGnosis server can forward critical events to any other EventGnosis server.

Get Started Now
Download and try EventGnosis Event Center, now! EventGnosis Event Center is easy to install and will be up and running in minutes. See a complete list of features in the features overview.

EventGnosis Event Center Product Versions
EventGnosis Event Center Free

EventGnosis Event Center Basic

EventGnosis Event Center Pro

Number of Source Hosts
2
20
Unlimited
Reporting
Demo - just default report
Demo - just default report
Yes
User Management and Authentication
No
No
Yes
Performance
5 events/second (10 days trial with unlimited performance)
Unlimited
Unlimited
Price
Free
$995
$3,495
Free Updates
Unlimited
Minor Releases
Minor Releases
Support
Problem Reporting, Patch Releases,
EventGnosis PRO and PRO 7/24 Support Available