EventGnosis SOA Platform
Rapid development without coding using wizard interfaces

Deploys in Minutes
Deployment Support Available
Self-descriptive English Language Building Blocks
No New Scripting Languages to Learn

Real-time Dashboard and Non-Repudiation

Detailed Transaction Logging for Non-Repudiation
Real-Time Business Process and Performance Dashboard
Archive Browser for easy archive traversal

Based on the EventGnosis CEP engine

High Performance Extensible All-Java Architecture
Large Library of Input and Output Protocols/Adaptors
Large Library of Event Processing and Correlation "Filters"
Enterprise Application Integration through Messaging
Message Protocol Translation and Routing

Full XML based technology

High performance SOAP transactions
RSS feed reading
XML transformation using XSLT and XPath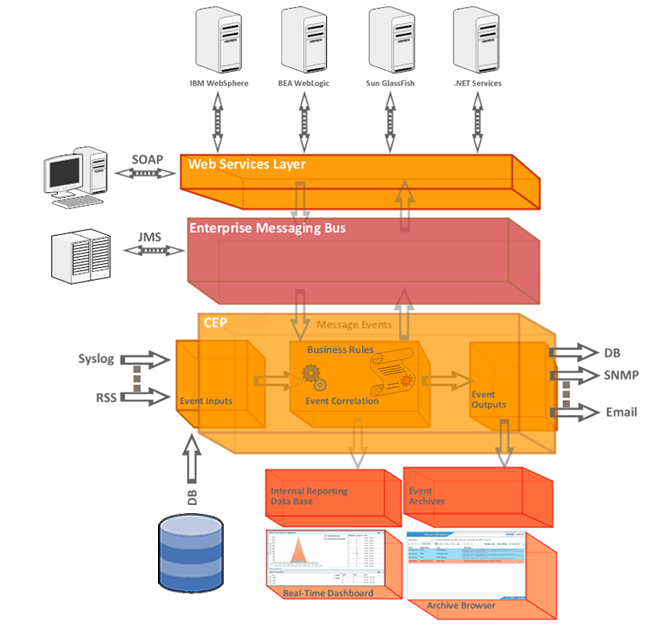 Rule-Based Application Server

The EventGnosis SOA platform is a rule-based application server. It enables you to integrate your SOA and CEP applications with your business rules by using a simple rule-editing environment. Unlike other application servers, EventGnosis SOA doesn't reqire low level technical knowledge to define and deploy your business rules.

Connect All of Your Enterprise Applications

EventGnosis SOA is the solution which connects the newest trends in SOA applications (web services with a rule based server and an XML/XSLT transformation engine) with rich internet applications, a real-time performance dashboard, and the ability to communicate with legacy systems. It is compatibile with most of SOA solutions on the market like IBM WebSphere, BEA WebLogic and others. Its library of supported protocols includes: JMS, TCP, text logs, Data Bases, RSS, SNMP, SMTP, Syslog, and many more.

Rapid Development = Fast Time to Market

The EventGnosis SOA platform enables you to build revenue-generating SOA and CEP applications quickly with zero coding. In fact, without EventGnosis, a single complex application can take an entire year to develop, which means 12 whole months before it can generate any revenue. By enabling you to develop large applications in weeks without low level coding and by filling in the blanks in configuration tables, you can focus your engineering dollars on developing competitive customer solutions instead of developing low-level infrastructure. Here is one example of a rule-based configuration screen:

Solutions


Automatic Remediation for SOA Web Services

Web services are becoming an integral part of the business infrastructure, and the availability and proper functioning of individual web services is mission critical. The only way to assure 99.999% services availability and to maintain the required transaction performance and throughput is to be able to monitor individual SOAP transactions as are they are being processed. Performance and availability problems have to be identified in real‐time and may require automatic remedial actions on a wide range of infrastructure components on the network, such as application servers, databases, and web servers. more

Publishing Databases with Web Services

Web services technology enables application‐to‐application interaction over the web ‐ regardless of the platform, language, or data formats. Web services technology usually refers to services implemented and deployed in middle‐tier application servers. However, in heterogeneous and disconnected environments, there is an increasing need to access stored procedures as well as data and metadata, through web services interfaces, as well. more

Real‐Time Performance Dashboard for SOA Web Services

The adoption of service-oriented architectures (SOA) has become increasingly prevalent in enterprise IT environments. This web services approach offers significant benefits in terms of speed of development, inter-operability, and re-usability. However, the transaction flow through web services applications can be tremendously difficult to monitor in order to avoid problems before they impact the business. An essential aspect of any successful SOA deployment is the ability to continuously monitor mission-critical business processes in real-time. more
EventGnosis SOAP Proxy - Solution we Developed Using Our Own EventGnosis SOA Platform
EventGnosis SOAP Proxy is a solution for uncompromised availability of web services. It is like an application firewall and more...
Real-Time Business Dashboard and Transaction Non-Repudiation
The EventGnosis platform includes a dashboard for real-time monitoring of business transactions as well as server performance.
Every transaction can be logged in detail to assure service realiability and non-repudiation.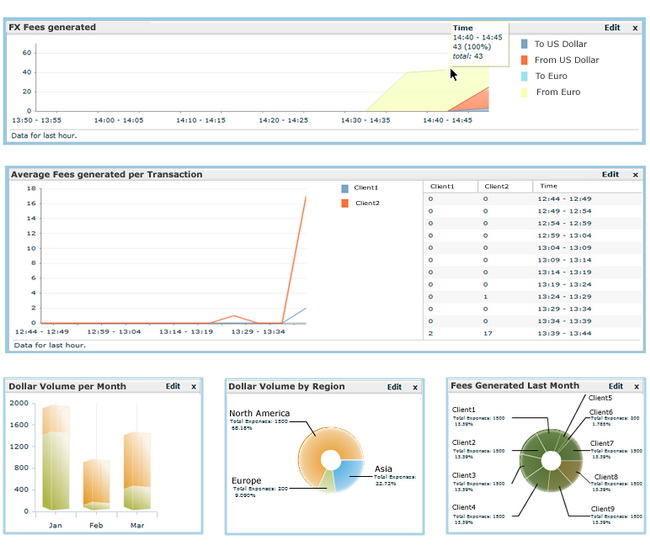 Get Started Now
Contact us to schedule a WebEx demonstration. Our world-class systems engineering team can develop
proof-of-concept solutions within days. Don't wait - let us help you get results, now!

Request Product Demonstration